Gordon and I spent a fun day today at "Wondercon" in San Francisco. It's an annual convention devoted to comics, graphic novels, animation in general, scifi/fantasy movies, etc. We went because we wanted to support the movie "
Serenity
" which is opening in September (see banner ad at the bottom of my blog main page)...but mostly we went so
Gordon
could say "hi" to Adam Baldwin, a very cool actor he worked with on
The Patriot
! Adam was duly surprised and jumped up and gave Gordon a big hug. Suave individual that I am, I dispelled the rumour that
Wah Maker
trousers made Nathan Fillion look "fat" by assuring him they made him look great (really great, in fact). He just laughed and said he actually agreed, but it was just a joke around the set to complain about them.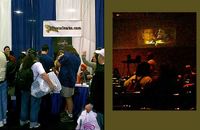 Being the total nerd that I am, I dressed as a denizen of the Firefly universe, and visited briefly with some other nice fans who are doing their best to get the word out on this movie. You can see by the pic above left that the Browncoat table was a very popular place. Every time I went by it was totally swamped. The pic on the right is from the Browncoat room, where they were showing episodes from
Firefly
(the TV show the movie is spun off from, you can own it on DVD). In the pic below I'm the nerd in the "Jayne hat" and glasses. And rabbit ears (thanks Cpt. Mal impersonator, I think you're becoming one with that persona...).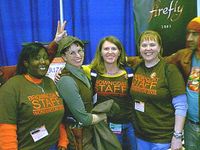 Another highlight was meeting
Sala Baker
(a cool stunt guy who played the armored Sauron and at least one featured Orc in the recent
Lord of the Rings
movies). Movie/TV folks don't get applause at the end of a performance like stage actors do, so it's nice to meet these people and be able to complement them on their work. We also met Jon Provost, who played "Timmy" on the TV show "Lassie" from '54 to '74. He was a cute little boy, and now he's a nice-looking, friendly man who continues to work as an actor. Oh, we also saw a short "behind the scenes" clip on the new Speilberg "War of the Worlds" movie opening this year: it looks like quite a ride! It was fun to meet people while waiting in various lines for things and talk about movies, comics, TV shows, and other geeky things that I normally don't get to discuss because I don't really know anybody as "into" those things as I am. I really enjoyed our day out, and I appreciated that my hubby was able to share it with me!
Updates:
For another report on the festivities and some really good photos, visit SafeDistance's blog
here
. Courtesy of Earth2Kim (whom we met and is sweet AND gorgeous) here's a nice
AVI clip of Nathan Fillion
taking Alan Tudyk's phoned-in (literally) "appearance".