I can't remember when I've had such a cool "historical" experience! Mr. Frye and I spent last weekend in Orting at the local SCA's "
Lionheart's Tournament
", which had plenty of equestrian stuff to keep us busy. We ran a "challenge course" which was kind of an obstacle/confidence course on horseback with tasks to perform like tilting at the quintain, picking fruit, and spearing a "pig" (made of foam). Everybody should have a cute "lance girl" to hand up weapons (above R). More info on
Gordon's blog
. Bonus: I finally qualified as an "Advanced" rider in the SCA, which means I can participate at any gait now. Also, somehow we managed to win a costuming contest that we didn't know we'd entered. Huzzah! For a cool little movie of our cavalry charges, go
here
.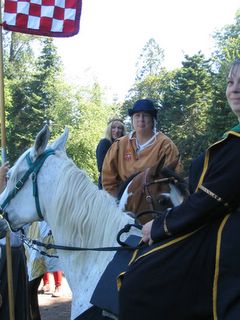 More horsy types, including Queen Angharad of An Tir (back center) and Anne-Marie whom Gordon has chatted with online for
ages
...and now we've met!
(photos by Guillaume)